Poi Spinning: Easy Crafts for Kids
Looking for fun things to do with kids at home? Poi spinning is an easy craft that will keep kids engaged for hours on end.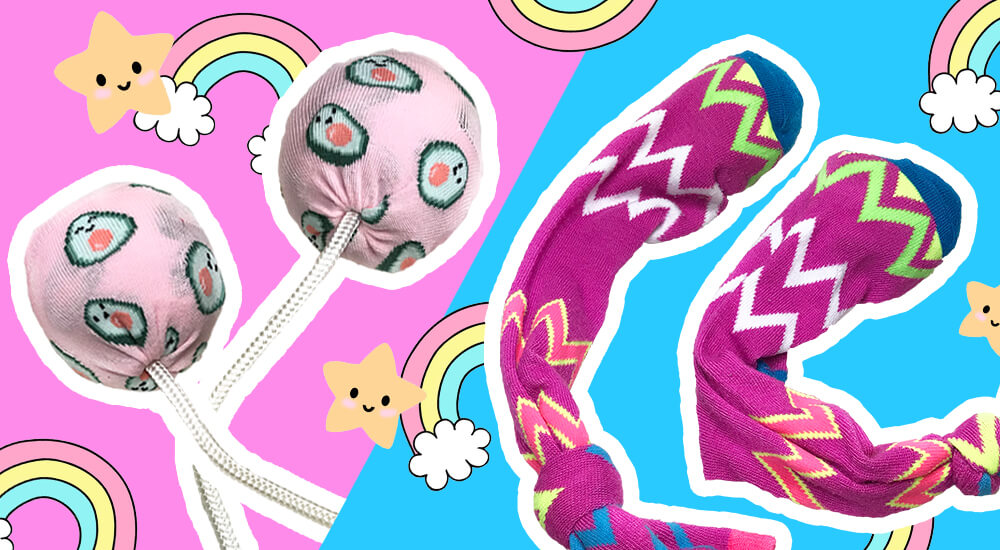 Poi spinning is an ancient tradition that dates back hundreds of years to the Māori of New Zealand. It is said that Māori men used poi to train strength and flexibility, and Māori women used poi as a game and form of entertainment. Today people of all ages and abilities are practicing poi, and in 2018, a clinical study on poi and health proved physical and cognitive benefits after just one month of poi practice.¹
As a form of play based learning, poi is a great activity for children of all ages. Playing poi gets that blood pumping and can help fine-tune motor skills, foster muscle development, and activate the brain. But before you can play poi, you need a pair of poi! Luckily poi is a super fun craft activity which can be done with materials found around the house. Check out the instructions and video below on how to make poi in under 5 minutes, including sock poi and corded sock poi.
Easy Crafts for Kids: DIY Poi Making Video
How to Make Sock Poi for Kids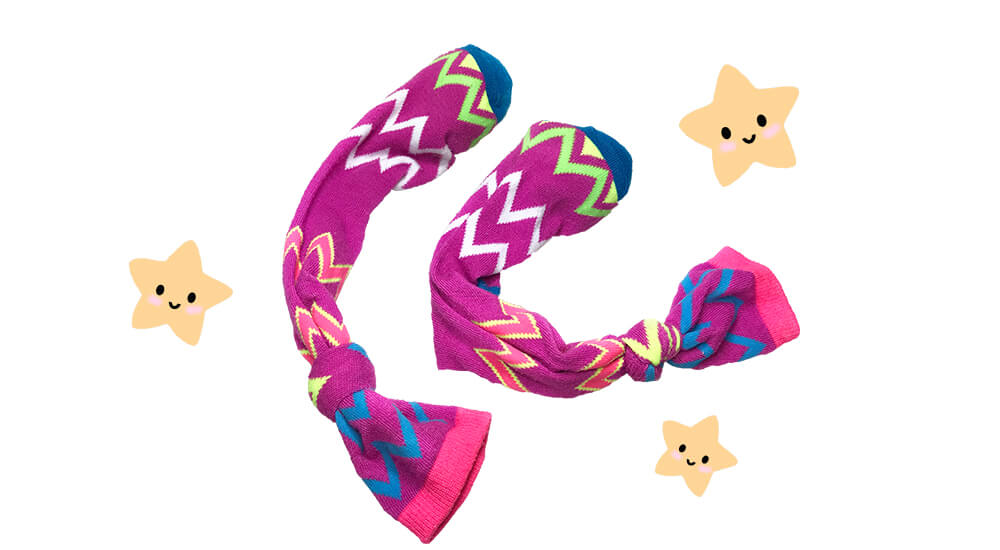 Materials
x1 pair knee-high socks
x1 pair anklet socks
Measuring cup or a container you can use for measuring
Rice
How to Make
1. Create the weight for your poi. Measure 1/4 cup of rice and pour into one anklet sock. Tie a knot at the top of the anklet sock so the rice stays secure. Repeat to create your second weight.
2. Place each weight inside one knee-high sock.
3. Create the handle for your poi. Tie a knot in the knee high sock where your little one would like to hold it. The poi should not hit the ground when spun, so tie the knot accordingly (e.g. tie the knot closer to the toe of the sock to make the poi shorter, or closer to the opening of the sock to make them longer).
How to Make Corded Sock Poi for Kids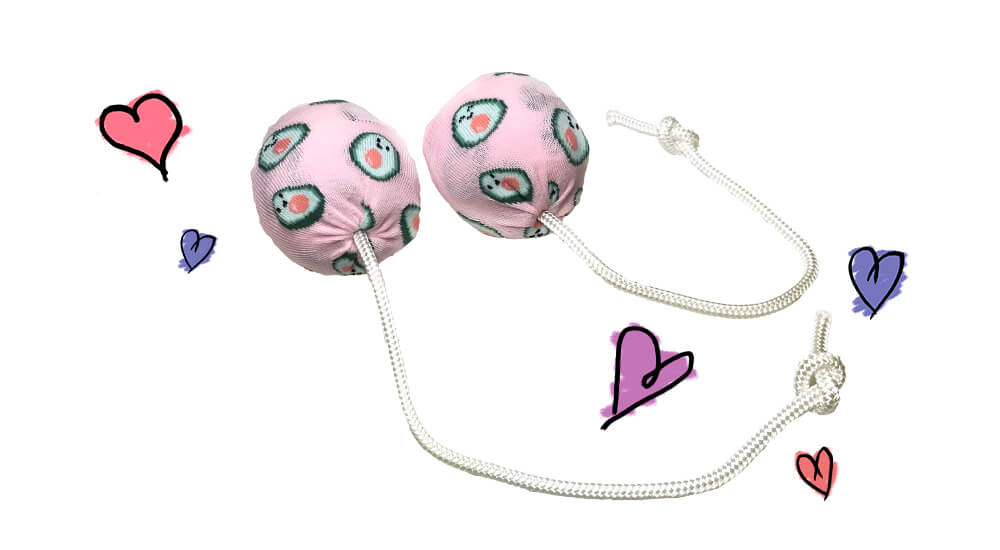 Materials
x1 pair anklet socks
x2 hair ties or rubber bands
x2 generous handfuls of stuffing (craft stuffing, foam, newspaper, or plastic bags)
x2 strands of cord (rope, yarn, or ribbon)
How to Make
1. Turn anklet socks inside out. Fill each sock with a generous handful of stuffing.
2. Tie a knot at the bottom of each strand of cord. If using yarn or ribbon, you can braid a few strands together to make the cord more substantial.
3. Put the knotted end of each cord inside your anklet sock, so the knot is embedded in the stuffing.
4. Use your hair ties or rubber bands to tie off your anklet sock, securing the cord and stuffing inside.
5. Flip the rest of the anklet sock down, hiding the hair tie/rubber band and exposing the right-side of the sock fabric.
6. Create a handle by tying a knot at the end of the cord.
Now it's time to play!
There are so many ways for children of all ages and abilities to play poi and keep their minds and bodies active. Try spinning along to the Wheels on the Bus poi video below, or check out our Poi for Kids page for more resources.
Poi Pack for Early Childhood Education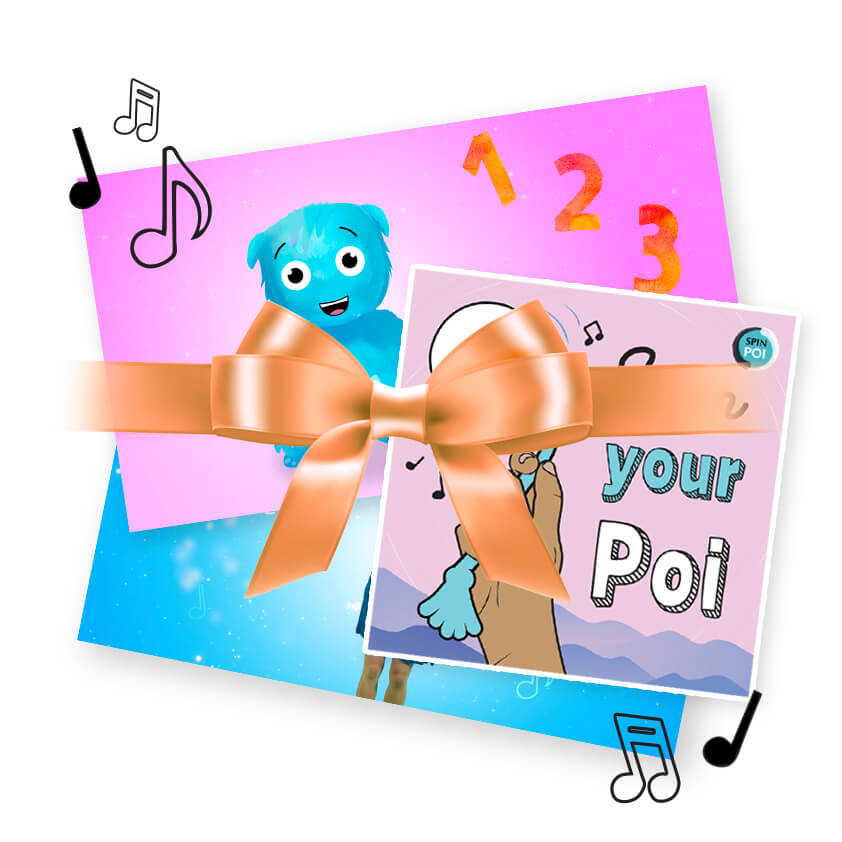 Check out the SpinPoi shop for our curriculum based resource that utilizes poi to develop key physical and cognitive skills for kids.
Poi Dancing Songs for Kids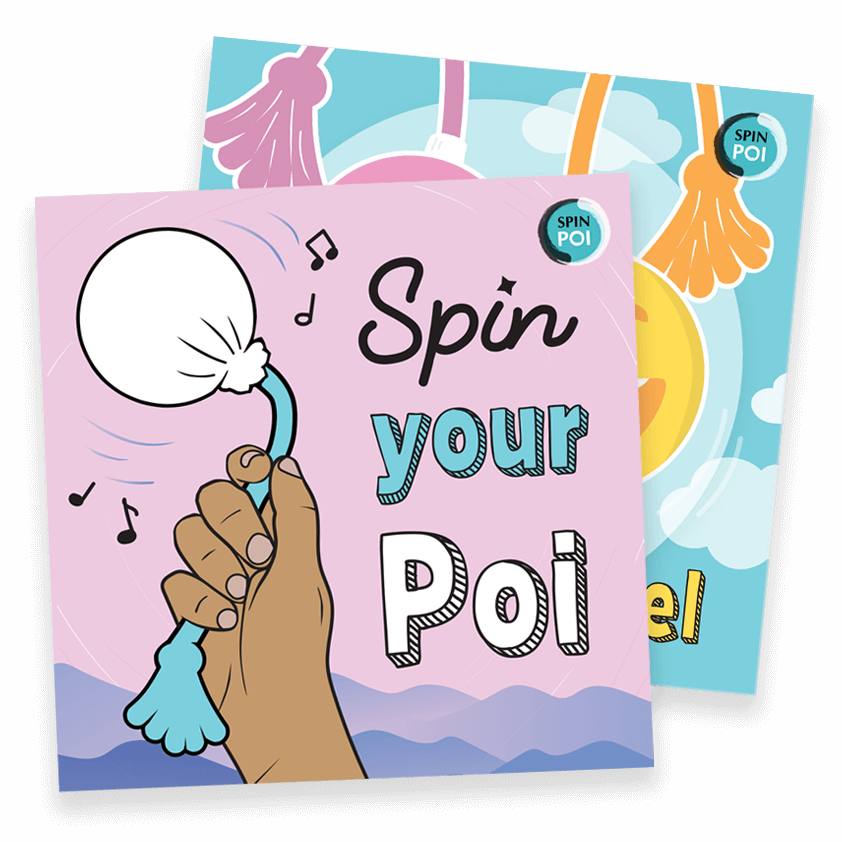 These original poi songs will have your little one moving and grooving! Available on Apple Music and all major streaming platforms.
Can you twirl along to the beat with this poi routine? Visit the SpinPoi YouTube Channel for more poi spinning videos for kids.
Want to Learn More About Poi Spinning?
Join our mailing list or Download our FREE poi & wellbeing guide to get the latest news on poi and wellbeing research, services, and special offers. You can also email us directly at info@spinpoi.com, we are happy to chat and support all of your poi spinning needs.
This article was written by Dr. Kate Riegle van West, the leading global exponent in working with poi to improve wellbeing.