Poi Helps Rehab Patients at Middlemore Hospital
Poi is helping rehab patients at Middlemore Hospital and has become one of the most popular activities on ward.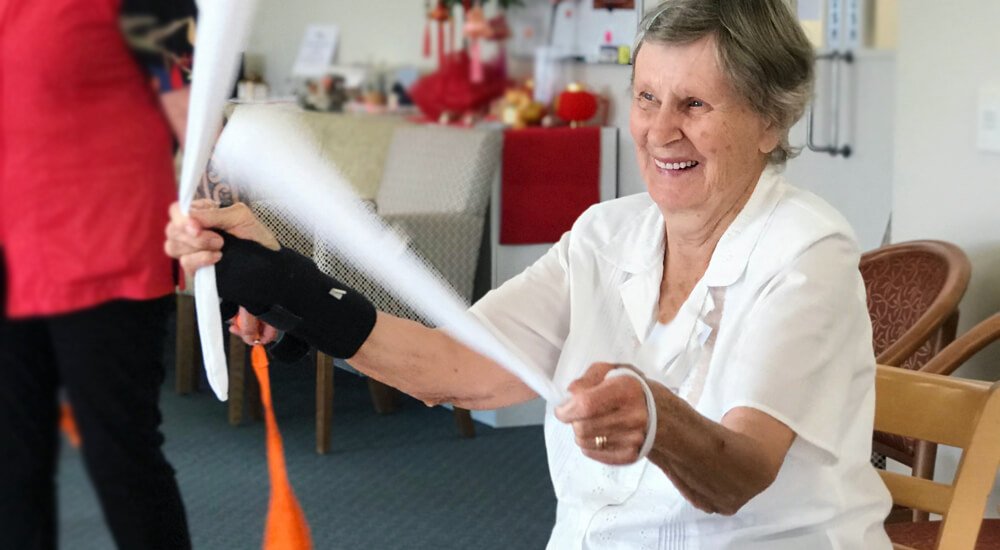 The poi group at Middlemore Hospital has been running for just over a year, and has become one of the largest and most accessible activities on the ward. The programme has helped deliver 200 additional rehabilitative hours with rave reviews from patients, therapists, and nursing/medical staff. Rehabilitative Therapy Assistant Joanne Paton shares her experience starting the program and insights on how it has progressed.
"Given the clinical research on the health benefits of poi, and poi's special place as a Māori taonga, I thought it could be a good addition to the group activities on our adult/neuro rehab ward. We already have a variety of activities such as Breakfast Group, Communication Group, Emotional Support, and Education (learning about stroke, recovery, medication, dealing with change, etc.). These groups help us to deliver a "high dose" of rehab for our patients, as well as add variety and social interaction. Poi seemed like a good fit as it requires minimal resources but can deliver effective rehab to a large number of people at once.
With the support of SpinPoi's resources for aged care and approval from kaumatua and nursing/medical staff, I began to plan out the first sessions including warm up exercises, movements with one poi, two poi, routines to music, and warm down. When the first patients came along I could see some bewilderment and concerned looks of "what am I in for" or "what's happening here", but as the class progressed this transformed into participation, enjoyment and a desire to do it again. As the weeks carried on poi went from an additional therapeutic activity to one of the most popular, and something prioritised on patients' schedules. Now, other therapies are typically arranged around it. We include patients who cannot speak English or have severe communication problems, patients with MRO (ie MRSA or ESBL carriers), and patients with severe disability/fatigue post stroke. We even continued right through COVID level 4 lockdown as physical distancing was able to be maintained. The popularity and accessibility of poi has meant that patients who enjoy it are keen to engage and participate, and the therapists are keen for their patients to be included. We actually went through a phase where the group was too popular, with nearly half the ward being put on the poi group list. Whānau and carers are also invited to join in and often do.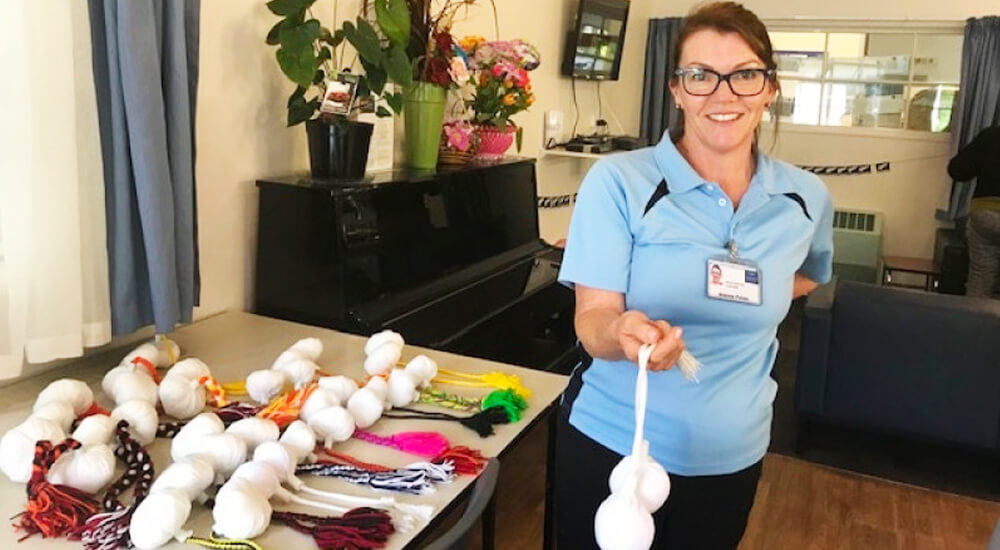 It has been wonderful seeing the progress people make as they get better with the poi and more involved. Patients often ask "Jo, what day do we do poi?" or "when can we do it again?" or even "oh stink we have to wait until next week to do it again?" I also frequently hear patients 'selling' it to each other, like "hey you should join the poi group tomorrow, it's really good/fun." Maori men often do say "that's for the ladies" but usually end up giving it a go and quite enjoying it. For them and many other people it's the first (safe) opportunity to do something they've seen practiced or performed by others in their lives.
It's also a great workout, and both the patients and the physical therapists have been surprised at how taxing poi can be. I've heard both say things like "That was a lot harder than I expected but very enjoyable" and "Wow I can really feel my arms and shoulders have had a workout!" I've even had a physical therapist who was rehabbing a wrist injury ask for a set of poi to help with her own recovery. I have also given poi to patients outside of the group so they can practice/play in their own time, which works really well on a case by case basis and gives them another self-directed therapy they can do in hospital.
Although I generally follow my lesson plan there were times when the class took on a will of its own organically, especially when people had been to a few classes. Patients started to come up with their own moves, and there was singing and banter and a little teasing or challenging each other, along with lots of encouragement and support as people achieve new things. The group is held opposite the Charge Nurse Managers office and she often pokes her head in to see how much fun we're having as some weeks we make a lot of noise! I have curated a playlist of music heavily influenced by popular waiata including some African and Island tunes. Everyone loves this and the right music is a big drawcard I think.
There are some challenges to doing poi on the ward. One is space – you need an area big enough to spread the patients out. There have been weeks when we've had too many people shoehorned into our room. Another is materials, as you either need to make poi or procure them from the SpinPoi shop or somewhere else. It's also important to be vigilant about hand hygiene and sanitise the poi after each group with virkon wipes – there haven't been any concerns raised about this but I think there's room for improvement, and we are currently trialing SpinPoi's new therapeutic poi which are easy to wipe down and also dishwasher/washing machine friendly. Lastly, poi can be challenging for some stroke patients, as there are some weeks where there are a lot of cognitive issues and significant neglect/hemiplegia to contend with. But we adapt and simplify the movements, and I guess that's the beauty of poi. At the simplest, someone may just be swaying to the music and spinning their poi any which way, or just watching the others in the group.
Bottom line is, I love doing poi as part of my work. It's one of the only group activities that there are few barriers to participation. Patients can be engaged in the activity for the entire time, as there's no waiting for equipment or to take your turn, and it is not only a good physical and cognitive workout but heaps of fun. I truly feel proud to have introduced it and to have it running successfully. As far as I know we are the only District Health Board rehabilitation/stroke service doing this in New Zealand if not the world." 
Read coverage of Joanne's story on the Counties Manukau Health website, "Traditional Maaori activity an effective rehab tool".