Sunday 19 March and 2 April, 10am – 2pm NZST
Does this time not work for you? Click here to let us know your preferences for a future Certification Course.
Two Day Virtual Course for Working with Poi and Seniors
Harness your full poi-tential in this comprehensive hands-on certification course. During the training you will learn the necessary skills to confidently and safely facilitate poi sessions for older adults at all levels of care. Upon course completion, you will achieve the Poi for Seniors SpinPoi Certification. Let's get spinning!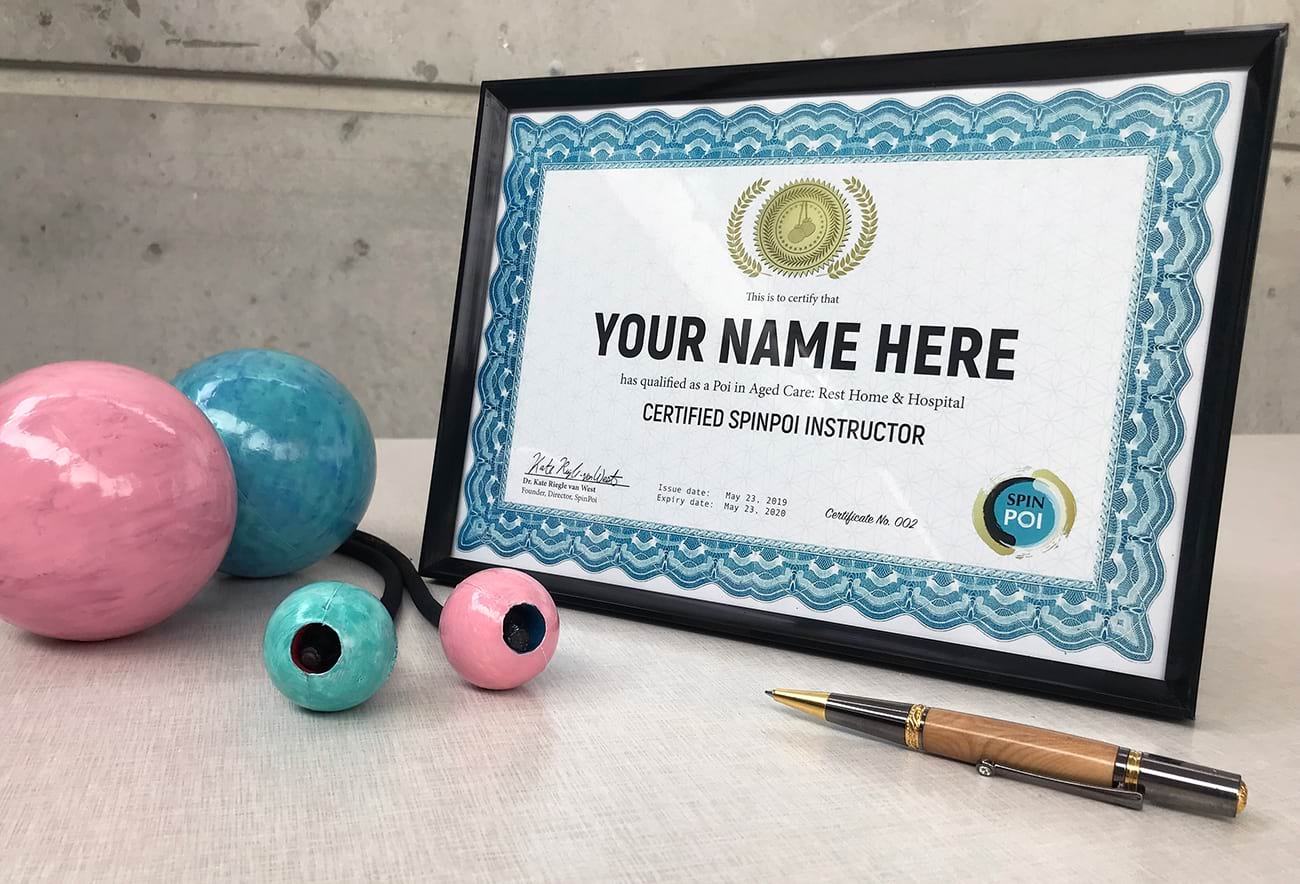 Course Overview & Timeline
The SpinPoi Certification is an evidence-based qualification stemming from clinical research on the effects of poi on physical and cognitive function. The course involves 8 hours of hands-on training through two live Zoom sessions. Participants are also expected to complete 9 hours of homework outside of class. Please read the full course description for details on what is covered during the course.
Course Content
The following units will be covered during sessions one and two through presentation, discussion, and hands-on learning.
✔︎Unit 1: Poi in New Zealand and Beyond. The history of poi as a precious taonga (treasure) in New Zealand, the different styles of poi today, and the clinical research on the health benefits of poi.
✔︎Unit 2: Poi Movement Theory. The modes of movement and 3 building blocks which create the foundation for all poi movement.
✔︎Unit 3: Seed Moves. An exploration specific poi techniques and movements that can be utilized to challenge students of all levels in an aged care setting.
✔︎Unit 4: Session Facilitation and Pedagogy. Teaching methodology and best practices for structuring your sessions and maximizing student engagement.
What People Are Saying
"I have been able to learn and implement SpinPoi programs in the aged and disability sectors and have seen firsthand the joy and improvement for consumers in my classes. I totally recommend SpinPoi to anyone." –Janine, Aged Care Lifestyle Consulting

"Poi went from an additional therapeutic activity on our ward to one of the most popular, and something prioritized on patients' schedules. Now, other therapies are typically arranged around it." – Jo, Middlemore Hospital

"SpinPoi inspired me to incorporate poi into my dance classes for the 50yrs+, and made the process of adding poi to an existing group fitness class very straight forward. The humour, creativity and sheer joy from participants has been fantastic." – Hilary, Move Good Now

"Our residents are loving our SpinPoi sessions. We do get a good laugh along the way and I have noticed how well they follow instructions (something that they usually have difficulties with – and the concentration!)" – Elaine, Southlands Residential Home

"As a play-based specialist teacher, often working with youth with diverse and complex needs, I've found SpinPoi to be a great activity not only for the engagement and physical benefits but for the amount everyone enjoys it." – Jesse, The Forest School

"During SpinPoi sessions we have seen our older residents smile or laugh out loud, socialize and develop new friendships, and engage both their minds and their bodies despite their age and physical or cognitive abilities." – Orquidea, Summerset

SpinPoi Certification is perfect for…
anyone who would like to incorporate poi into their work as a tool for improving wellbeing and quality of life. Certified instructors will gain the knowledge, tools, and credibility to confidently lead safe and engaging poi sessions for their clients, plus join the community of Certified SpinPoi Instructors across the globe.
Meet Your Instructor
Dr. Kate Riegle van West is the leading global exponent in working
with poi as a therapeutic tool and the Founder and CEO of SpinPoi Ltd. Kate completed her PhD in the health benefits of poi at the University of Auckland, where she conducted the first study in the world to scientifically investigate the effects of poi on physical and cognitive function. She was awarded the Future Leader Award from the Royal Society of New Zealand for her work in the poi/health field, and has been featured across international media including BBC World News, ABC News, TVNZ, Radio New Zealand, and Maori Television. In 2021 she was named as one of the University of Auckland's Top 40 Under 40 inspiring alumni.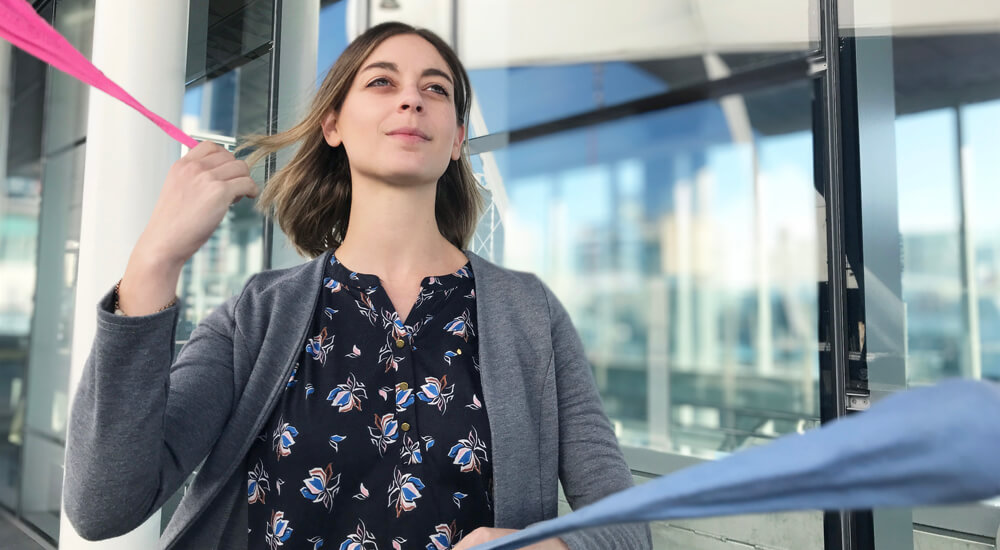 Course Fee
The SpinPoi Certification course is $450 NZD per person. This includes the following course resources and training:
✔︎Poi for Seniors: Complete Facilitator Resources (valued at $60 NZD)
✔︎Poi for Beginners: Complete Pack (valued at $100 NZD)
✔︎ 8 hours of hands-on training through two Zoom sessions
✔︎ Ongoing support to ensure all coursework is completed and you are confident in your skillset and learnings
✔︎ Upon course completion – a paper copy of your certificate in the mail, access to the Instructor Portal with additional resources, and access to the Certified Instructors facebook group
Become Part of the SpinPoi Team
Upon completion of your certification you will join a highly skilled team of SpinPoi instructors who are working with poi across the globe to improve wellbeing, one orbit at a time.
Cancellation Policy
A cancellation can be requested at any time by emailing [email protected] Cancellation requests submitted prior to 15 days from the course date will receive a 90% refund. Cancellation requests submitted within 10 days of the course date will receive a 50% refund.